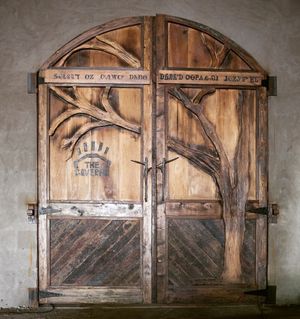 COVID-19 Update
Updated Friday, March 20 at 5:50p CT
On the hand-carved doors to The Caverns there is an inscription burned into the wood in the Sequoyah script, the language of the Cherokee people, which translates to "Welcome To The Caverns, where the Great Spirit brings all people together through music." But right now, sadly, we cannot be together. For the health and safety of our guests, our staff and artists, we must pause the music as we continue to monitor the COVID-19 situation closely.
We are in contact with ticket holders directly with updates on rescheduled and cancelled shows. Additionally, we will keep this webpage updated with show updates. Thank you for your understanding as we all navigate this historic virus together.
The following shows have been rescheduled or cancelled:
March 21, 2020 - Ricky Skaggs & Kentucky Thunder
Status: rescheduled
New Date: July 10, 2020
March 27, 28 & 29, 2020 - Bluegrass Underground PBS TV Tapings
Status: rescheduled
New Dates: November 20, 21 & 22, 2020
April 4, 2020 - Drivin' N' Cryin' with The Silks
Status: rescheduled
New Date: August 30, 2020
April 10, 2020 - Bruce Hornsby & The Noisemakers
Status: rescheduled
New Date: June 28, 2020
April 11, 2020 - Dark Star Orchestra
Status: rescheduled
New Date: June 25, 2020
April 18, 2020 - Jade Cicada
Status: rescheduled
New Date: August 1, 2020
April 22, 2020 - Puss N Boots
April 25, 2020 - The Floozies with Sunsquabi & Nobide
Status: rescheduled
New date: July 11, 2020
May 2, 2020 - The Polish Ambassador & Friends feat. Nitty Scott with saQi
May 16, 2020 - Gloria Gaynor / Mike Farris & The Fortunate Few
If you have tickets for a show and cannot make the rescheduled date, we have partnered with Lyte to give our fans a way to sell and purchase official tickets from other real fans.